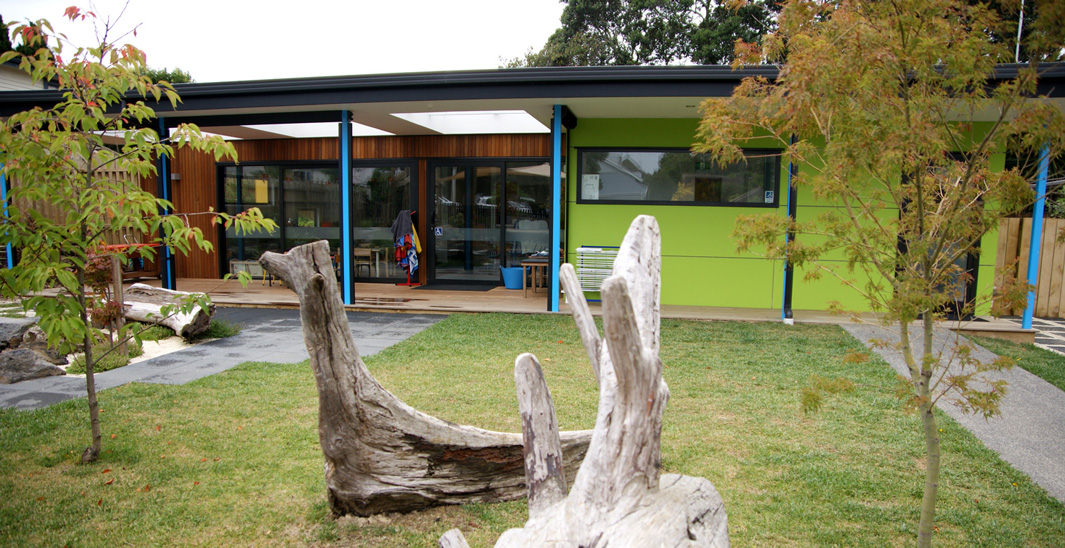 The Hearing House Pre-School
…An intimate scale for children… a variety of spaces… and a sense of fun…
COMMUNITY / CIVIC
PROJECT

The Hearing House Pre-School

CLIENT

The Hearing House

LOCATION

Greenlane, Auckland

STATUS

Completed
…An intimate scale for children… a variety of spaces… and a sense of fun…
The Hearing House is a charity that works with deaf children, providing cochlear implants, hearing aids and training techniques to enable them to listen and speak like their hearing peers. The Hearing House Pre-School project was the first stage in the re-development of their Greenlane site. The siting of the pre-school takes advantage of the existing elements on the site; the carpark, the play area and the Pohutukawa tree.
The brief was to provide a new building that was of a residential and intimate scale for the children that includes a variety of spaces for different activities to occur, connecting to the outdoor play area while having a sense of fun.
The building is organised under a simple roof form that provides for a covered entry and deck area before lifting up over the main play area with high level glazing to capture the light, supply cross-ventilation and offer views up into the Pohutukawa. This volume provides a light filled space for the main play area with the support spaces organised off this, including the mat-time room with a window seat for quieter activities.
The exterior is clad with vertical cedar, with elements picked out in specific colours confirmed in consultation with the client representative of native flora and fauna; yellow of the Kowhai, blue of the Tui feathers and the green of native flaxes. The interior utilises a limited palette of colour so as not to provide visual distractions to the children or compete with their artwork displays.
Bossley Architects has made an extraordinary contribution to the redevelopment of our facilities of which we are truly appreciative.
Scott Johnson, Client, CEO