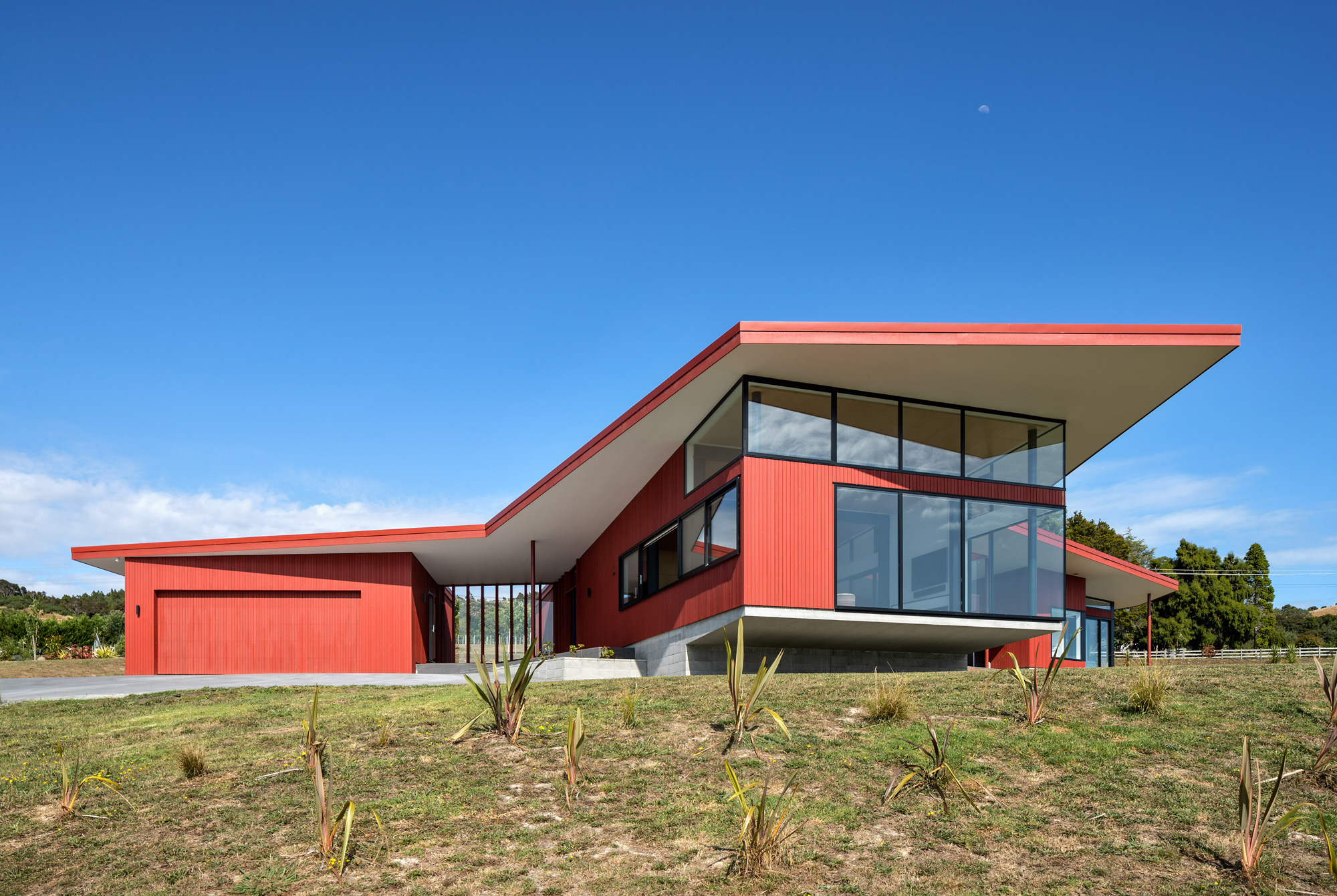 Parirau
Like a low-flying bird swooping down the slope towards the distant sea, this house spreads along the contours from south to north.
RESIDENTIAL
PROJECT

Parirau

LOCATION

Clevedon, Auckland

STATUS

Completed

AWARDS

Colorsteel Residential Building of the Year Finalist
Like a low-flying bird swooping down the slope towards the distant sea, this house spreads along the contours from south to north.
Parirau is a relatively small house intended to grow over time, as required to suit family changes.
The traditional red of rural sheds is applied to roof and walls to create a unified form, designed to be built in two stages. Stage one has been completed, the second will come when appropriate.
The large asymmetrical monopitch roof unifies the discrete forms below. The separate garage, living areas and bedroom elements are linked by the external entry and loggia.
In cross section the rooms are tucked against the ground at the western uphill side, then open out towards the sea, sandwiched between the falling land below and the rising roof above.
The peak of this experience is the Living/Dining/Kitchen space, cantilevered out over the gently falling hillside. The roof cantilevers even further to provide protection and drama. Large windows ensure the space is thoroughly immersed in the landscape, looking over the 20Ha farm and the Hauraki Gulf beyond, towards the distant Coromandel Peninsula.
The house is used in conjunction with the nearby red 'traditional' barn, built first, which houses a small apartment as well as cars and farm equipment. Our clients lived there while the house was being built. A small bedroom in the upper level, three steps up from the main level, caters for visiting grandchildren and doubles as an office.
Colour plays a significant role in the experience of the house. The predominant saturated red continues inside with the red stained kitchen, accentuated by a beautiful tiled splashback by artist Miriam van Wezel. Bright panels of glass mosaics in the bathrooms continue the freshness of the colour experience.
A relationship to barn-like farm buildings is suggested by the simple materials and the exposed steel structure. Terraces on both sides of the house provide protection against prevailing winds. The main covered loggia has a fireplace and built in BBQ. Grassed steps lead down to the lawn and paddocks, often occupied by sheep or cows.
A future wing has been designed to expand the house to the north, which will add two more bedrooms separated from the main bedroom by a landscaped garden. This will continue the underlying concept of the house, of a ribbon of spaces enhancing the flow of the contours, linked by the overall roof form.