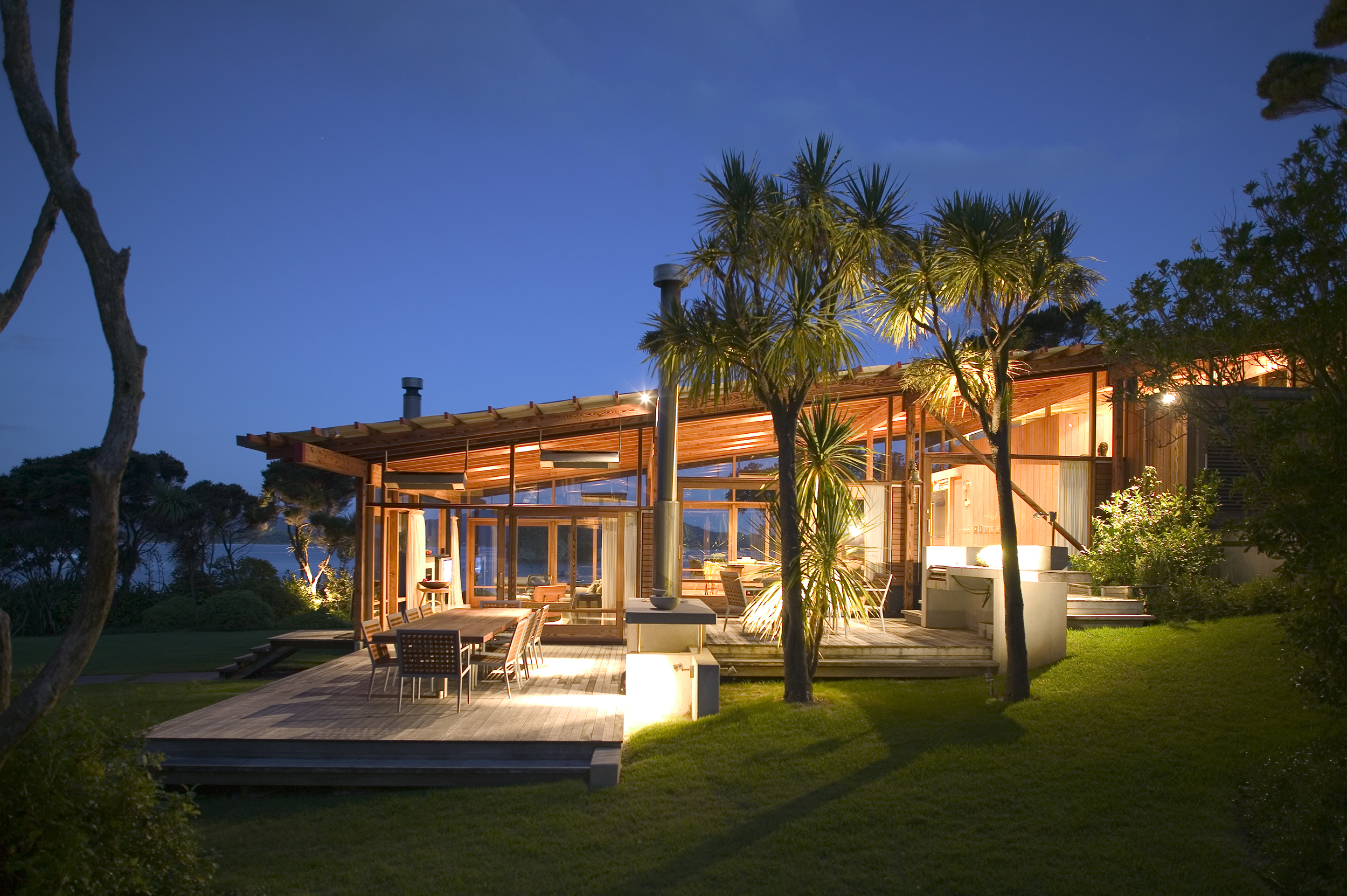 Island Complex
"An elegant pavilion positioned under a floating roof, this seductive home evokes memories of holidays under canvas.  Sensitively positioned on a secluded site, it is distinguished by the conceptual clarity of its design."
– NZIA Judges Citation
RESIDENTIAL
PROJECT

Island Complex

LOCATION

Bay of Islands, Northland

STATUS

Completed

AWARDS

NZ Institute of Architects Regional Award 2000

Tasman Small Practice Award 1999

NZ Institute of Architects Northern Regional Award 1999

NZ Home and Building/Citroen 'Home of the Year' 1998

NZ Institute of Architects Branch Award 1998

NZ Institute of Architects 10 Best Buildings Award 1997
"An elegant pavilion positioned under a floating roof, this seductive home evokes memories of holidays under canvas.  Sensitively positioned on a secluded site, it is distinguished by the conceptual clarity of its design."
– NZIA Judges Citation
On an island in the Bay of Islands, four separate buildings discretely occupy an east-facing bay. The houses are light pavilions which promote the concept of 'roof' as the predominant element of shelter. The monopitch roofs float above and beyond the spaces, supported on exo-skeletal structures beautifully detailed in wood. Exterior walls are taut joinery frames, offering minimal interruption between inside and out. The boatshed is totally underground, to reduce the visual built form in the bay, with the guesthouse above.
The arrangement of buildings forms a type of encampment, one of the early explorations by Bossley's to develop a New Zealand response to the traditional courtyard house from Europe and Asia. Here the buildings form open links each other, reinforced by the contours of the land and vegetation which stand in for the traditional enclosure of a walled garden.
The house has frequently been published internationally and has achieved what the Monument journal from Australia described as near 'mythic status'.