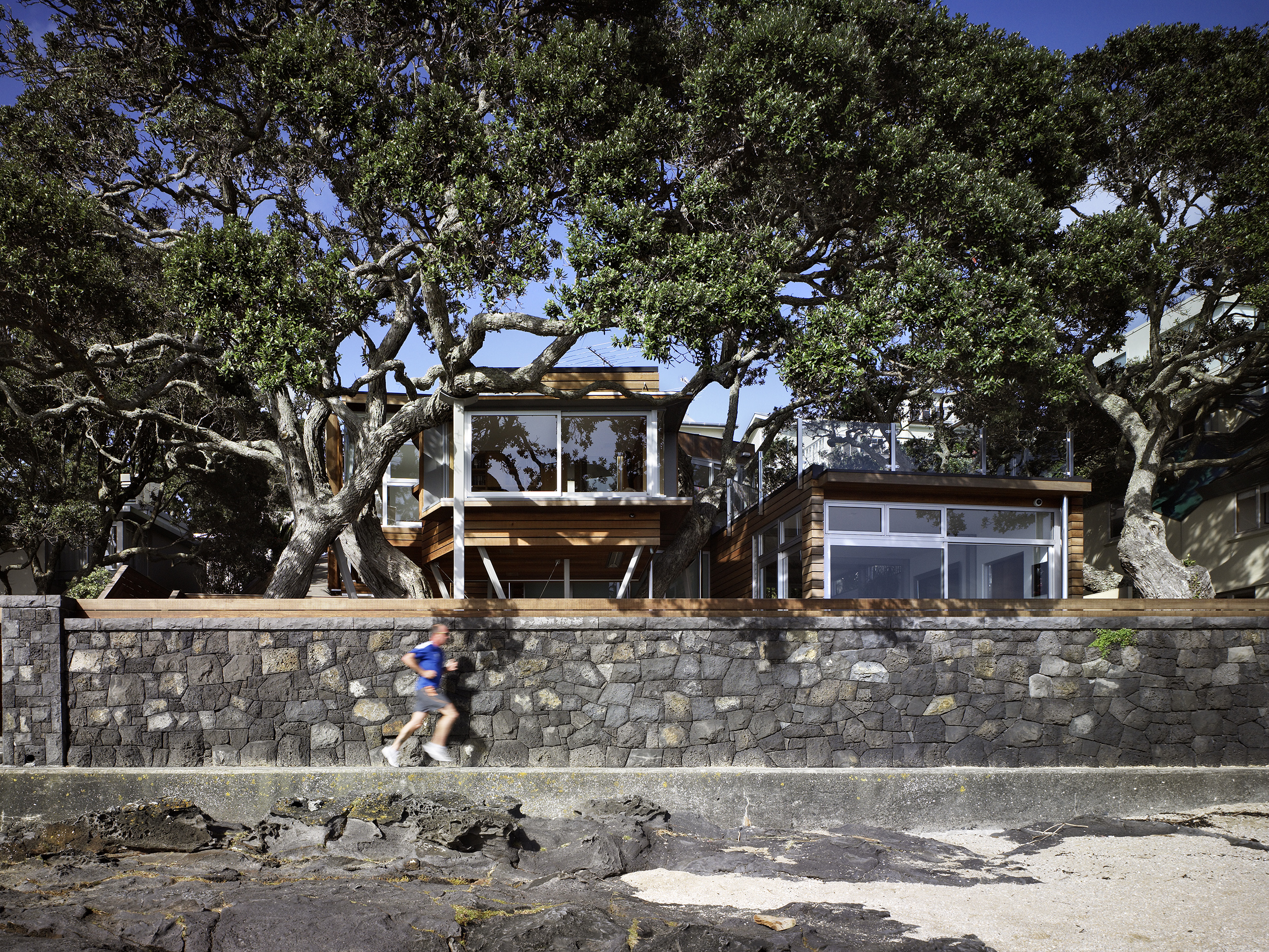 Thorne Bay House
A compact house designed for a beautiful but small and near-impossible site!
RESIDENTIAL
PROJECT

Thorne Bay House

LOCATION

Thorne Bay, Auckland

STATUS

Completed

AWARDS

Te Kāhui Whaihanga NZIA Auckland Architecture Awards 2011

Master Builders Auckland Region Gold Award 2009

NZ Wood Timber Design Awards 2009 Residential Architectural Excellence - High Commended
A compact house designed for a beautiful but small and near-impossible site!
Five well established Pohutukawa inhabit the site, with intertwined limbs spread across the seaward half of the available building zone. A tight access lane drops from Minnehaha Ave at a very steep 1:3 slope. Much of the site is solid volcanic rock.
The desire not to damage the trees or their extensive root systems, combined with the steep slope and limited turning circle for cars, rock outcrops, and the restrictive planning controls resulted in an innovative building which and is squeezed under, around and between the limbs of the trees, and still manages to take full advantage of the site, the sun and the views.
The character of the house changes as it rises from the ground towards the sky. The ground floor level comprises orthogonal spaces, which follow the slope in a series of steps down towards the sea, providing sea views from each level. Upstairs, the rooms become more angular and free flowing, to reflect the contortions of the pohutukawa limbs.
The upper level rooms open onto an extensive rooftop terrace which weaves between the tree branches. The Library is projected out towards the sea like a tree house amongst the pohutukawas, propped on asymmetrical steel columns whose bases are carefully located to avoid tree roots. Much of the ground floor slab is suspended on a limited number of foundations also located to avoid tree roots. An irrigation system under the slab provides the equivalent water to the roots as if the house had not been built.
The cladding is a carefully detailed system, with an outer rainscreen of open-jointed 130 x 20mm cedar boards. These provide the visual cladding, protect the weatherskin, and offer a ventilated cavity which reduces the solar gain into the building through the walls.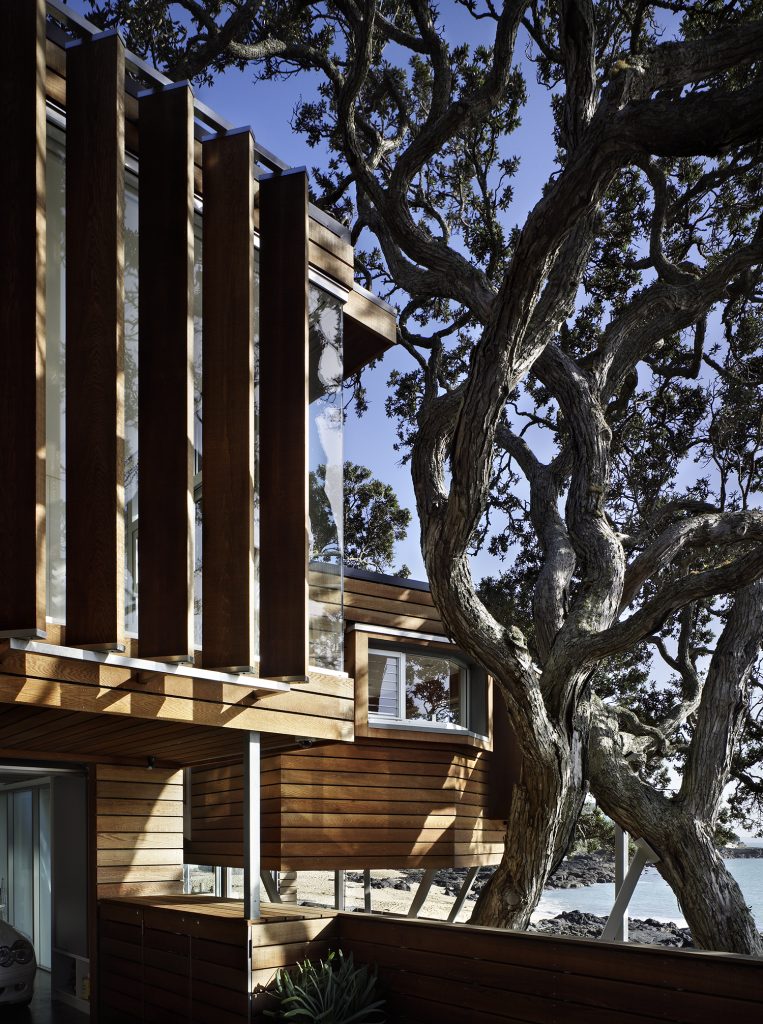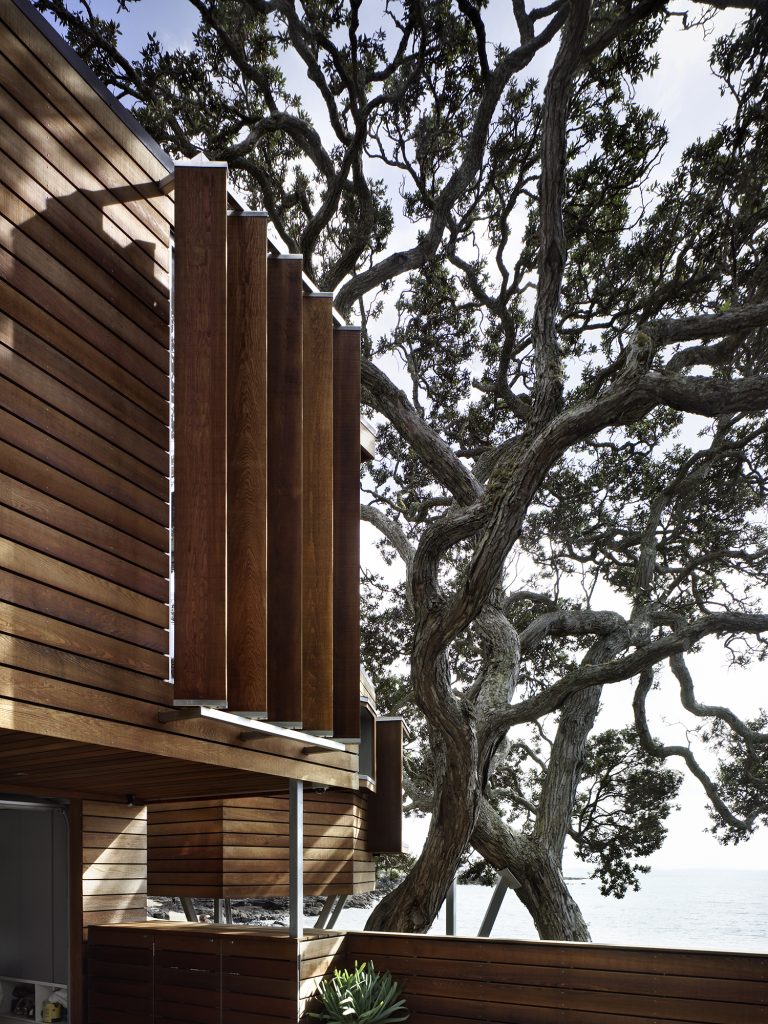 Skilfully designed for a near-impossible site,' this is a 'house of unexpected geometries. What at first appears whimsical is in fact a clever and controlled architecture responding intimately to the surrounding natural environment…
NZIA Judges Citation