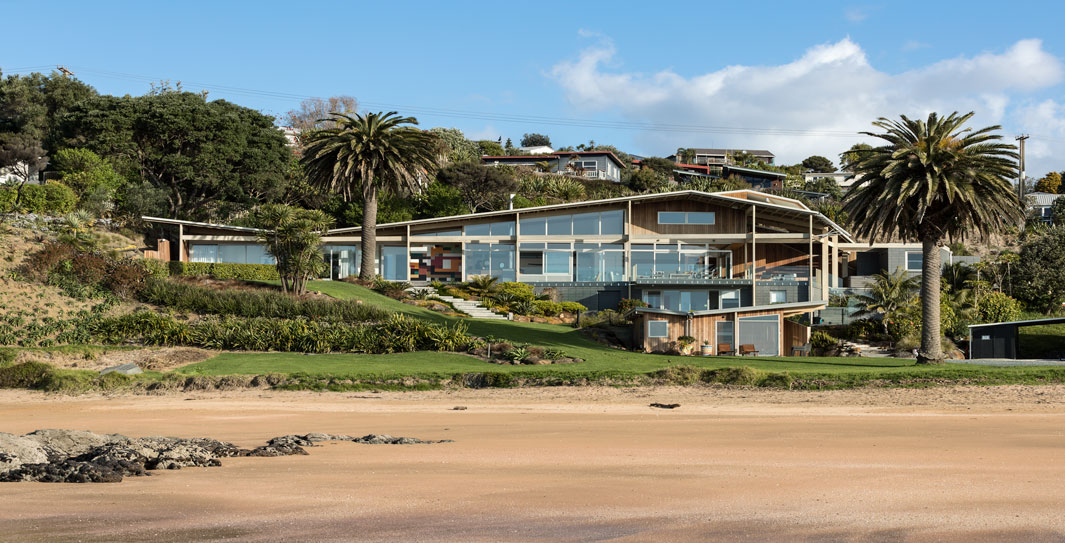 Archibald House
The whole house is like a glazed verandah, tucked against the steep hillside
RESIDENTIAL
PROJECT

Archibald House

LOCATION

Coopers Beach, Northland

STATUS

Completed
The whole house is like a glazed verandah, tucked against the steep hillside
On a beautiful beachfront site in Coopers Beach in the Far North of New Zealand, this is a three bedroom house for a local couple and their adult family. An additional studio was developed in front of the house, being a conversion of an existing shed.
The site is a narrow strip squeezed between the foreshore reserve and the steep bank behind, along which runs a driveway servicing this house and the neighbour. Vehicle access from the driveway combined with the steep landfall led to the unusual alternative of having the garage at the top of the house, with living areas and bedroom on the level below. Another level down is a separate suite with bedroom, bathroom and kitchenette.
Effectively the house is one room deep, with a large covered terrace on the western end to provide a generous outdoor dining area. The roof casually folds over the spaces, rising from single to double height then dropping again. When viewed from the beach the roof has an almost topographical easiness, which has been likened to landscape or even to a fish.
The large roof overhangs all the rooms to provide a full-length cover to the north. This, combined with the openness of the timber structure and glazing, means that the rooms themselves feel as though they are on the veranda. The expressed frame of columns and beams is the signature gesture of the house, built of laminated timber with carefully designed visible connections of stainless steel.
A series of beautiful tiled panels by artist, Miriam van Wezel have been incorporated in to each bathroom and beside the main entry door. These provide visual uplift along the south walls and mark the ceremony of entry with a joyous exclamation of orange and yellow.
Relaxed and open, the house forms a casual container for the family's vibrant collection of furniture and art.